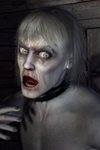 Marten
A new sheet is available, it is an oWoD sheet, Mummy: the Resurrection.

You can download the sheet to add it to your own instance of the Sheet Generator or use it from here. Please go to the Download page and follow the Install New Sheets wiki if you want to add the Sheet to your own Sheet Generator instance.

Also, check out this topic on the message board if you have any request for improvements or changes.